One of my favorite games on the planet is Devil May Cry 4, barely coming under Devil May Cry 3. Not only was it one of the hardest games I ever played (I cried after 23rd attempt and beating the final boss), but there were several elements of the story I loved. Yes, there was the wonderful, cliche plot about the hero, Nero, saving his girlfriend from the forces of evil. Despite that element of the story, another aspect stood out to me. The relationship between Nero and the franchises main character, Dante, overshadowed Nero's steadfast will to save his girlfriend. However, it wasn't just the interaction of Nero and Dante, but also Nero's ties to Dante's whole family. One scene really does an excellent job of visually connecting Nero and Dante without them interacting takes place shortly after the first fourth of the game.
Here's the full scene. You can skip about 2:32 to 3:44 since it's just dialogue, and there isn't anything that really tells story outside of the dialogue exchanged between Nero and Agnus.
Okay, let's begin with the beginning (not an illogical way to start). Nero enters a spooky. laboratory space. The area bulky swords posted on the walls, a giant glass panel that appears to be an observation deck, and just beyond that glass floats a broken katana.
The important element so far is the broken Katana in the glowing blue light. The player, if they've played the other games, knows that Vergil, Dante's ambitious twin, had two defining features that separated him from his brother. Firstly, Vergil fought a katana, and his favorite color to clad himself in was blue. Instantly, from just the visual, we know that the katana is Yamato, Vergil's weapon of choice. In break in Yamato, and the fact that it's not in Vergil's possession, implies Vergil's grim fate, whether they've played the prior games or not. It's obvious nothing good happened to the previous owner of this katana (which nothing did. SPOILERS. Vergil went to hell, then died, and then was controlled by an evil demon until he fought Dante, and was finally put to rest). It's made apparent that the sword has demonic origins when Nero looks down at his demonic arm and clenches his fist, hinting at a connection between the two.
Right after, a hunched over guy with nasty hair enters the frame. Nero now encounters this Igor/Dwayne Johnson hybrid with a monocle and a heavy lisp: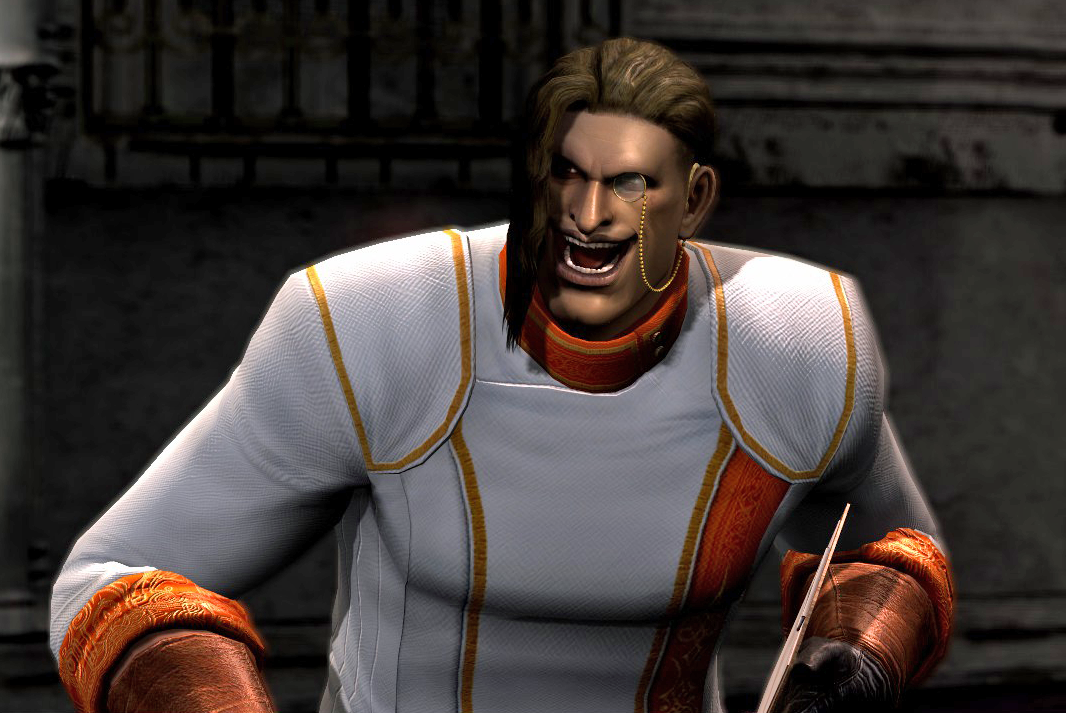 This supernatural scientist fellow sort of welcomes Nero to his lab, Nero says some distasteful comments about Agnus' lab, and my favorite bit of dialogue to ever be uttered commences. ("Don't you think that's a little harsh? Killing me because of the way I t-t-t-talk?") Anyway, the scene continues and there's one more notable moment before the fight. Nero asks Agnus "What's going on here," and Agnus replies with "I don't have to tell you." As Agnus responds, the camera pans to Yamato. We've learned so far that Agnus has been doing something sciencey down here, and from the camera pan, we get definitive proof that Yamato is involved. Then there is a fight scene, which the video edited out, but Nero breaks the glass to face Agnus.
At 3:44, Agnus catches Nero off guard and an enemy charges Nero, stabs him in the chest, and pins him to a wall. There's a shot of Nero, pinned to the wall, which mirrors an early scene where Dante is stabbed through his chest, and pinned to a statue (which is a reoccurring scene through the games…)
However are the images side by side of the two being stabbed in Devil May Cry 4.
This allusion with Nero foreshadows his familial relationship with Dante. It's never explicitly stated in the game that Nero is somehow related to Dante, but this scene has a moment that practically confirms his parentage (to anyone who has played the original game). Not only does Nero cause the re-formation of Yamato, but the sword flies to his demonic hand. Now wielding the demonic katana, Nero's form is joined by a blue spirit that oddly resembles Vergil's Nelo Angelo form from the first game in the franchise.
Here are two excellent shots that shows Nero with Yamato and the blue spirit.
There are a few, minor changes, but the two demonic entities are eerily reminiscent of the other. Firstly, the player knows from these visuals that this is Vergil's katana. It's now been a hundred percent confirmed. Secondly, the player can infer from the parallels with Dante and the ability to reforge and wield Yamato, that Nero's mysterious lineage is most probably tied to the twin demon brothers.
This scene is honestly one of my favorites in any game because of the visual references to Vergil (one of my favorite videogame characters of all time). While it's never actually stated in game who Nero's father is, it is confirmed that Nero is Vergil's son in paratext. Hopefully, they'll explore his lineage further in the fifth game since this game set it up perfectly.